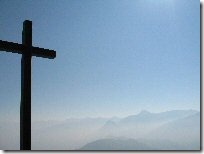 Picture this: Your father is found guilty of a crime he didn't commit.  He's sentenced to death via electric chair and he doesn't get pardoned.  He dies May 12th, and many people mourn his loss.  Afterward, he is exonerated.  So, every year on May 12th, you have a local confectioner make up a chocolate electric chair that you eat to remember your dad.
Is it just me, or does the idea of having a chocolate candy cross for Easter seem very strange?
I mean, there is a pagan holiday that occurs at the same time as Resurrection Sunday– that revolves around fertility, new life and bunnies and eggs.  It seems like Christians continually try to take things from the world and Christianize them because they're fun.  We play Santa, some of us Trick or Treat, and then there's this infatuation with finding eggs filled with candy and having Christian symbols immortalized in chocolate.
Does it seem strange to you to have a figure of torture and death– and the most unjust death in the history of the world– immortalized as a bar of chocolate to be consumed as a treat?  Does that trivialize the cross and what happened there?  What about if it was an electric chair?
(Visited 24 times, 1 visits today)