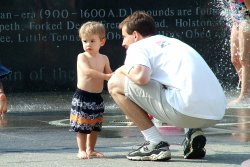 What makes a man a man? I would propose that it is a complex mixture that includes who he has to be and what he has been trained that determines just who that man is. Unfortunately, both of these things have changed.
It used to be that the man was considered the primary breadwinner. He went out to do the work and bring home the money to provide for the family. He was the one that was supposed to know how to fix things that were broken. He was the person looked to for strength, support, and for teaching young boys to follow in his footsteps. He was the leader, the lover, the protector, and the friend. There are songs dedicated to "Daddy's Hand" being soft and gentle and yet tough as steel.
However, feminism has had an impact on this man. First, feminism took away the man's requirement to provide. Women are now capable of holding a job– and getting perks that men cannot get. They get time off for having a baby with a guarantee of having their job back after six weeks of absence. They get flexible hours or part-time hours while men do not. They push for equal pay, through all of these things. They have placed restrictions on workplace conduct and talk. They push the envelope on what they can wear, and should a man have a problem with it– it's his problem.
Women feel they can be self-supportive. They can have Flexible Spending plans for daycare. They can have their children, their house, and their friends. They don't need men– and don't believe that men haven't taken notice. Men know they don't have to marry because they can get physical pleasure or companionship without the price of commitment.
Joe Callender, 47, a retired New York City corrections officer, has had four children with two different women he has lived with but not married, because (he says) he doubts his own capacity to be faithful. "Marriage, that's sacred to me," he says.

Tom Ryan is an electronic specialist who spent years touring with a rock band. He touts traumatic fears of divorce as a reason for his middle-aged celibacy. After living with a girlfriend for six years, and buying a house with her, he had to suddenly come up with the cash to buy out her share of the house after the breakup. His girlfriend, who had lived with him for six years, had wanted to get married and have children. He loved her, he says, but he "did not feel ready." He still holds out that marriage and/or children is not "totally out of the question." Mr. Ryan is 54 years old.
I believe the saying goes: Why buy the cow when you can get the milk for free? Men don't need to marry, and they don't feel that they have to support a wife and children because women are constantly saying that they don't need men.
Women first got into the workforce when the men were overseas, and they didn't want to leave. They believed that they could have it all: work, family, children, etc., and what they're now realizing is that they may try to have it all, but some feel unfulfilled.
Second, men are also being trained that women are peers and equal– marriage being a 50-50 partnership. The Bible says that God made the man to be the leader of the home, and the wife to submit to his authority. In our current culture, in order to achieve equality, women are being forced to be educated in things that do not benefit the marriage (in fact they can even work against the marriage) by people that say they care for them the most– their parents.
I have seen many parents use the excuse "Well if you don't get married…" or "if he leaves you/dies…" then you have to have a college education. And this college education isn't in things that would build the marriage– like how to be a good wife/mother/etc. It's how to have a business. It's toward a profession. I once asked a friend of mine in college what she would do if her husband wanted her to not work, homeschool, or something. And she said that she'd be willing to follow his lead. I remarked something about spending eight semesters getting a degree she wouldn't necessarily need.
Just this past week, an article on Forbes.com advised men to stay away from professional woman. You get a flavor of it with how it begins: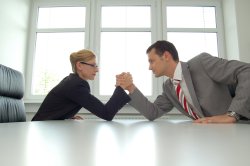 A word of advice. Marry pretty women or ugly ones. Short ones or tall ones. Blondes or brunettes. Just, whatever you do, don't marry a woman with a career.

Why? Because if many social scientists are to be believed, you run a higher risk of having a rocky marriage. While everyone knows that marriage can be stressful, recent studies have found professional women are more likely to get divorced, more likely to cheat, less likely to have children, and, if they do have kids, they are more likely to be unhappy about it. A recent study in Social Forces, a research journal, found that women–even those with a "feminist" outlook–are happier when their husband is the primary breadwinner.
Don't get me wrong, I'm not saying I want weak women. What I want is a complimentary couple that gets the most out of the differences that men and women have and serves God best. A family that can impact the world needs to have its members of it functioning in the best way they can. They need a leader/provider husband that knows his roles and fills them. They need a loving/supportive wife that's able to fill in their gaps and compliment them. They need children that honor and obey their parents and are examples for those around them.
I just don't think that our current cultural norms are accomplishing what is truly best.
(Visited 210 times, 1 visits today)