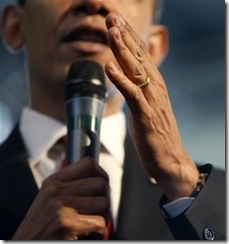 Wayne Root argues that this is really Former President Obama's third term:
I have news for my fellow conservatives, Republicans, capitalists and patriots. Biden's not president. He's a puppet. Yes, we have a new president. But his name is…

Barack Obama. 

Admit it. Now that I've said it out loud, it all makes sense. Obama is the real president, back for his third term, to finish the job.

Biden's job was to stand there and look moderate, and credible, and reasonable. So as not to scare the voters. But Biden isn't the real president. Obama is the man with the power.

Look at the radical Executive Orders, the most in history. And they all sound like Obama wrote them. This third term is "Obama Unmasked." With Biden as the front man, Obama can finally be himself. Obama is able to do all the radical things he never dared do as the actual president.

WAYNE ROOT: Meet the New President of the United States…Barack Obama
I read that Obama once said something along the lines that he'd like to be President again if he could have the power but not have to report to the people. Well, if this is true, he's gotten his wish.
(Visited 1 times, 1 visits today)