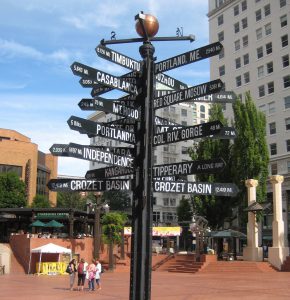 Two Different Times for me
After the situation has come and gone. When I'm looking back we can see with better clarity that truly God was working in the event and that He arranged thing correctly.
The other type of time is when there's no other thing to do but to turn to Him. Many people down through the ages have had to rely totally on God, and many people that were used mightily of Him were brought low first.
Paul Demonstrates these two
Before Paul could be a servant of the Most High God, he had to become blind and be lead around. He was also given a thorn in the flesh which he asked God to remove three times– which God denied. Paul told us the secret– that God's power is able to work in our infirmities.
Many years before Paul, David had situations where God's will and the pursuit of it moved from the academic to the practical. In Psalm 25, David was in a plight, and we learn that from verses 15-19.Absolom, his son, had set a clever trap. Spending time in the city gates, interacting with the people there and his natural good looks had made him popular. The fact that he was able to convince everyone that he should be king and that David fled only helped his position. Now David was in the trap, and wanted the Lord's deliverance from the net.
David's Situation
David is a unique character in many ways, but his pleas in this passage show just how much things had changed in Israel between the Goliath victory and the affair Bathsheba. Back when David had come in to fight the Philistine champion, he was the little champion. He defeats Goliath and then bests the Philistines and Saul has him kill 1,000 more to win the hand of Saul's daughter, Michal. David does that. The people start to proclaim that "Saul has slain his thousands and David his tens of thousands."
Fast forward to Bathsheba and we see a man that stayed back from the battle, has an affair, and now the people run to Absalom. David's heart was broken, as he points out in verse 17. His family is continuing in adultery. His son has taken his throne, defiled all of his wives, and sent people to kill him.
The grief this king bore as a result of his sin was tremendous.
He begs God to forgive him as it weighs on his heart. He was forgiven, but that did not stop him from bearing the consequences of his sin or remembering what he had done. It was to the point that David felt that he had few to turn to, and the people that were after him hated him.
Maybe you feel like this. Maybe you desperately need God's intervention. David had a plan for how to evade his plight.
(Visited 22 times, 1 visits today)