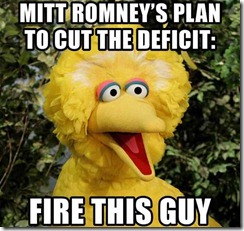 To hear the liberals tell it, Romney doesn't think much of Big Bird—in fact, one could believe that he actually wants Sesame Street and all the other PBS shows off the air!  For the record, my children love Wild Kratts and Word Girl and it would seem that they are in danger too.
Except it's not all as it appears.
Certainly, Romney did say this during the debate:
I'm sorry, Jim, I'm going to stop the subsidy to PBS. I'm going to stop other things. I like PBS, I love Big Bird. Actually like you, too. But I'm not going to—I'm not going to keep on spending money on things to borrow money from China to pay for. That's number one.
The problem comes into play when you take that to mean that he will cut off all funding for PBS.  In truth, the federal government only pays around 12% of PBS' revenue—the majority of it coming from private donors and grants.
Going a step further, Sherrie Westin, the executive vice president of Sesame Workshop, stated that they are in no danger even if Romney were to go through with his plan:
So, the next time you hear that Romney wants to fire Big Bird or kill public broadcasting, now you know the truth.
---
Image from Stock Exchange used under the Standard Restrictions explained at the link.
(Visited 24 times, 1 visits today)