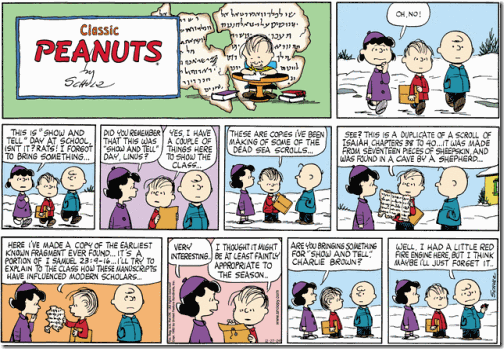 The funny thing about this comic—other than the punch line—is how a majority of the people would have at least known the subject matter when the comic was written, but that number is steadily decreasing.
Why?  Because Biblical literacy is getting lower by the day.  And forget about research into Bible times.
While a majority of Americans may still believe in the general content of the Bible, I would hazard a guess that many don't know what the book contains other than a handful of stories that they learned from Sunday School.
The kind of Christianity that abounds today is the feel good kind—emphasizing what God can do for you.  If you talk about the holiness or the righteousness of God then you are looked at as legalistic.  If you follow Peter's admonition in I Peter, and suggest that people should refrain from sin, you're a lunatic.
And yet that's what we've come to—Christianity is more about getting along than about becoming more like the One that saved us.  It's more about what can be had from it and how it can entertain us than us being a servant.
And I'm afraid it will be difficult to get that degree of Biblical literacy back again.
(Visited 35 times, 1 visits today)