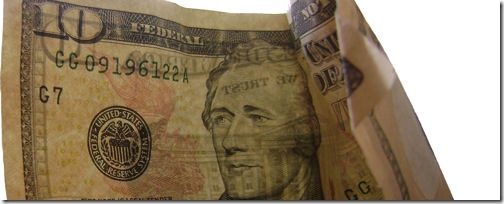 It's been in the news a bit recently.  Whether it's comments about whether the dollar will cease to be the reserve currency for the world, whether OPEC will cease to place worth of oil in dollars, and whether China will take over the world.  The ever inflating dollar is quite the topic.
Dean Baker from the Guardian suggests that, contrary to popular belief, we should embrace the dollar's downfall.
His reasoning is quite simple to understand.  Basically, if the dollar gets to be less in value than the Chinese currency, it will be cheaper to buy things locally than to buy from China.  This, in turn, should help us export goods (if we still know how to produce goods), because it'll be cheaper to buy from us than to buy locally.
What's happening right now is currency manipulation.  Any currency that is strong (like the British Pound) leads to a consumerist economy, because it is cheaper to buy from a cheaper currency than it is to buy local, and you have a hard time selling things because your currency is strong.
If I Were a Protectionist
If I were a protectionist, this would make a good argument for closing off the borders and buying locally.  Simply put, we're hurting our manufacturing because we are unable to sell our goods to other countries because of the high prices.  And because Americans would rather buy things at the cheapest rate (what country wouldn't?), we'll gladly ship things in from other countries and pay less.
If you don't tariff and you don't close the borders, you're relegating yourself to be a consumerist state—just until the tide turns, the other nations catch up (or pass you) and your services are now the affordable ones.
Not Playing Fair
The problem is that other nations are not playing fair.  With China continuing to buy our debt at low interest rates, they are keeping the dollar stronger than it would be, and thereby making it so that the system cannot correct itself.  We are stuck being a consumerist nation, and will continue to import more than we export.
The only other solution that I see is to change some of our laws so that it isn't as expensive to produce.  That way the difference between the American product and the foreign product isn't as big, so people can be persuaded to buy American.
(Visited 19 times, 1 visits today)