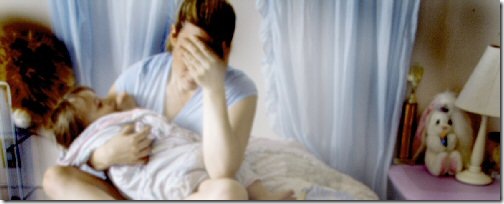 If it's so obvious that a child in the womb is a baby, a human life, then why would mothers choose to end the lives of their infants.  If a mother waited until after a child was born to kill her child, she'd be under murder charges or checked into a pysch ward.  But if she opts to kill her child in the womb, she's celebrated as a liberated female.
Why such a dichotomy?
It's a complex question, and I don't think that there's any one answer.
Sympathy
Many people know how much work a child is, and when we look at a young girl that's pregnant or someone that is unmarried that is pregnant we have sympathy.  She didn't mean to get pregnant, the man wants out of her life, etc.  And so we justify ending the life of the baby because "she can't see it anyway" and it'll "make things easier for her."
We can't see it
It's a whole lot harder to choose to leave something after you've seen it.  That's why, in adoption cases, the person that is getting the child would prefer that the mom not get the opportunity to bond with the child, because she may want to keep it, instead of going along with the agreement.
While the child is causing the mother sickness and possibly stress, but not giving the mother the enjoyment of sight, sound and touch, it's easier to disassociate with reality.  Much like foreign wars, genocide in different lands, etc., because we do not see it, it's easier to disassociate ourselves with the people and the decision.
"Freedom"
Many people want the choice to kill a child because they believe it's the only way to gain equality with men.  Men can have sex and walk away (unless there's a sexually transmitted disease).  On the other hand, women have had a new life growing inside her with that responsibility intact.
What should be a good incentive for abstaining until there is a commitment in place has changed to "free love" and so there has to be a way to deal with the natural consequences of the action.
However, "free love" isn't free, it exacts its cost morally, socially, emotionally and physically.
It's a complex picture, and I believe that every mother that chooses abortion does so for different reasons—but they are aided and abetted by a series of lies and misdirections such as to make the unconscionable palatable.  Because they do not believe in discretion beforehand, or will not make abstinence and permanent relationships a priority, they must, in turn, choose to end a life.
What a tragic choice—for the mother and for those that must sell their souls to support this manslaughter.  My heart cries out for when they find out what they are truly doing.
(Visited 13 times, 1 visits today)