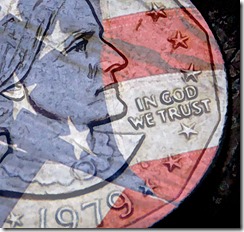 From Chuck Norris' article In God we must trust:
Without God, there are no ultimate absolutes, civility and moral guidelines, as George Washington warned our nation in his Farewell Address. He posited, how else is a nation to maintain its civility and morality besides with God?

Government isn't the answer. And neither is education, at least without religion. As Benjamin Rush, also a signer of the Declaration of Independence, explained, "Without religion, I believe that learning does real mischief to the morals and principles of mankind."

Our Founders had a better answer than government or even education. God is the answer. God is the moral compass of America. Or He should be, if we ever want to restore morality in our homes and civility to our land. Our Founders believed morals flowed from one's accountability to God, and that, without God, moral anarchy would result.
---
Image: In God We Trust by Chris Yarzab
(Visited 37 times, 1 visits today)