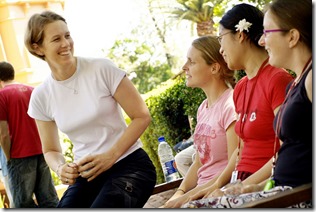 Derek and Jill Dillard are headed on a missions trip.  This normally wouldn't make national news, except that Jill Dillard's maiden name happens to be Duggar.
"19 Kids and Counting" reality star Jill Dillard, who revealed to Fox News' Megyn Kelly that she was fondled by her older brother Josh Duggar when she was a child, has left for a long-term mission trip with her husband, Derick Dillard. The pair has not stated where they are going or how long they will be gone, but they revealed in a blog post they wanted to leave the U.S. "for longer than the typical short-term mission trip." They added that they are "prepared for the possibility of it being years."

The Dillards had reportedly been eyed for a possible "19 Kids" spin-off as a way to salvage the embattled show. So does the couple's announcement mean that "19 Kids" is finally done for good? [Fox News]
To me, it's great that they want to do a missions trip—and I'm glad the cameras are not following them.
---
Image: Since 1916, Sydney Missionary and Bible College (SMBC) has been training men and women for gospel service by Sydney Missionary Bible College
(Visited 21 times, 1 visits today)