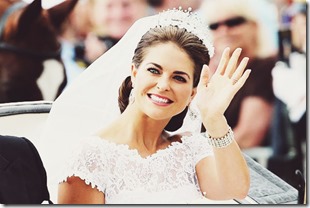 They gave birth to their second child, a son, shortly after attending the royal wedding of her brother, Carl-Phillip, the day before.
As reported in the Daily Mail, Sweden gets ANOTHER new royal: Princess Madeleine gives birth to a son – two days after brother Carl-Philip married ex-glamour model Sofia Hellqvist.
You can read all the details and see photos of a very pregnant princess as well as interesting pictures in Swedish garb.
---
Image: {events | a royal wedding : sweden's princess madeleine & chris o'neill} by {this is glamorous}
(Visited 24 times, 1 visits today)