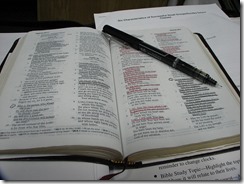 The Ordinary Pastor makes an obvious statement in a post Let's Be Honest: Reasons Why We Don't Read Our Bibles:
If we were to survey Christians at evangelical churches in America most people would agree that they need to read their Bibles. They understand that it is both required and good for them. But the sad truth is, many do not. This lands us in that strange place of knowing, but yet still avoiding, what is good and beneficial for us.

Why do we do it?
He then lists five of the big reasons why people do not read it, but saves the impact until the end:
Let's be honest: if you don't read your Bible it is because you don't want to read your Bible. And to bottom line this further, this is indicative or your relationship with God. We cannot separate a love for the Word of God and the God of the Word.
He's right—and it's convicting.  If you've found that you've neglected your Bible reading, what are you going to do about it?
---
Image: Bible Study 2 by George Bannister
(Visited 16 times, 1 visits today)