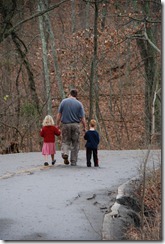 For the most part, I admit that I usually go right on in—surprising them.  So, why should I find it annoying that they do the same to me?
In the article Establishing Guidelines for Privacy with your Children, Maria Doll suggests that we should always knock:
Always knock – model this polite behavior to your child.  Knock and ask to come in before entering your child's room.  Insist that this be done to your room, also.  Explain that a closed door means someone wants privacy.  Knocking is the correct way to interrupt.
I would say that you have to make sure that they understand that, because it's your house, you have the right to access to their rooms, whereas they don't have the right to access yours, but what's your take?
Is a room personal space that a child has the right to say it is off limits?  What about the other suggestions from her site?
---
Image from Stock Exchange used under the Standard Restrictions explained at the link.
(Visited 15 times, 1 visits today)