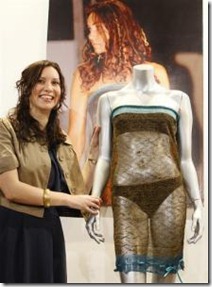 So it's come out that Kate Middleton (the future wife of Prince William) caught his eye wearing the "outfit" that you see to the right—and this can all be yours at an upcoming London auction!
I wouldn't call this a dress, nor would I call it a skirt:
The garment was initially intended to be worn as a skirt, but Middleton instead wore it as a short dress. She wore black lingerie underneath. [Kate Middleton's See-Through Dress to Be Sold – CNS News]
Obviously, someone will bid for it and win it, but would anyone ever wear this in public?  Privacy of your own home, sure, but not in public.
(Visited 20 times, 1 visits today)