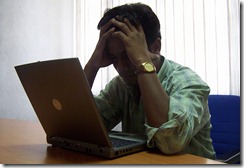 Isn't it amazing?  You go to multiple people, you get different answers!
As you know, I make money off blogging.  I make it in various ways, but I'm no where close to making money exclusively off blogging.
However, I'd like to have a separate account for the thing so I can manage it better.
Every time I try to ask someone how I should go about this, when the good breakpoint is, etc. I get wildly different answers—sometimes from the same person.
You would think that it would benefit banks to actually have a clear answer.
(Visited 28 times, 1 visits today)