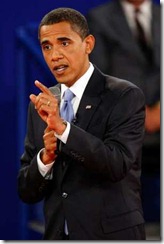 With the possibility of this country being thrown into the control of a Liberal President, a supermajority in the Senate and a majority in the house of Democrats, should I stay up for this (hopefully) once in a lifetime event, or should I plan to take the day after off so I can follow it all?
It's a good question.  Elections don't happen all that often, and even Sen. Obama himself is suggesting we take election day off.  'Course they don't want me to do it, or anyone that doesn't agree with them.  Not really, even if they say that they do.
What do you think?  Is this election over?  Are you going to vote?  And if so, are you going to support a main-line candidate?
(Visited 23 times, 1 visits today)