But I suffer not a woman to teach, nor to usurp authority over the man, but to be in silence. – 1 Timothy 2:12
So is one of the lightning rod verses of our time. What does Paul mean? Is this a cultural thing for the time, or is it something for all time. As more and more women achieve greater degrees of education, denominations start accepting women in the pastorate and leadership positions, and women start believing that they have a personal call to the ministry we find ourselves smacked in the face by this passage where we either have to agree with it or rationalize it away.
So, what is the context of the passage? This passage starts in verse 8 and starts with the men of the church. Actually, verse 12 may be one of the less challenging verses, because we find Paul making these commands for what women should be doing in church:
Women should adorn themselves in modest and not flashy apparel being adorned with good works
Let the woman learn in silence with all subjection.
Women are to teach, nor to usurp authority over the man, but to be in silence.
She shall be saved in childbearing, if they continue in faith and charity and holiness with sobriety.
In these verses, at this time period, Paul puts a lot of the responsibility of women on what she does, how she learns, and to whom she ministers. It's interesting what he points out as a single man.
First, he does not want a woman to be concerned as much about her outward appearance as her inward. He wants her covering, as it were, to be that of good works, of holiness. What should attract a man to a godly woman isn't necessarily her looks, her fine clothes or jewelry, but her character. This seems to be something that our culture continues to war with as we seem to continue to draw attention to the body and ignore the character of the person.
The Last admonition is something that all parents must have to be fully Christ-like– we need to have the attributes of holiness and purity and have them continue on in our children. Matthew Henry states it this way:
Though the difficulties and dangers of childbearing are many and great, as they are part of the punishment inflicted on the sex for Eve's transgression, yet here is much for her support and encouragement: Notwithstanding she shall be saved, etc. Though in sorrow, yet she shall bring forth, and be a living mother of living children; with this proviso, that they continue in faith, and charity, and holiness, with sobriety: and women, under the circumstance of child-bearing should by faith lay hold of this promise for their support in the needful time.
It is this middle piece, however, that we find ourselves most interested and conflicted. What does Paul mean by being silent and usurping authority, and does that apply today? One church in New York believes that it does, and instructed a female teacher that she was no longer to teach men.
In order to appropriately address this passage, we first need to verify what Paul originally said. Fortunately, Stephen Kingston did a really good job of this in an earlier post:
There is no reason to suppose Paul meant anything but "authority" in this passage of his letter, and it is quite inappropriate to surmise anything further from the Greek.

So finally to the point in hand – the most likely interpretation for Paul's words here is exactly what it appears to be – Paul will not suffer a woman to have authority in the churches of God.

The verse is problematic (as has been pointed out) but we have no valid reason for believing Paul meant to say anything different. We know however that Paul does not discount women from being deacons, although he seems to forbid them from being overseers. He does not forbid them prophesying and he affirms their role within the church.
So, he pretty much says that Paul actually meant that women should not have authority. I do find it interesting that Paul switches from "that the women adorn themselves" to "let the woman learn in silence" and that can be a topic for another time. What I want to do is go beyond Kingston's analysis and ask the question: Is this for us today, or something that was specific to the church at which Timothy was a pastor?
I believe the key lies in Paul's reasoning for having the women not be in the authoritative position. Paul could have said, "Timothy, these women should not have authority because Matilda has a weakness for the bottle, Estabula is known to gossip, and Julianna is not learned enough in our doctrine," or something along those lines. He could have talked to their mental abilities, their testimony in the home, or anything else that would have been germane to Timothy's church at that time, but he did not.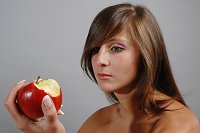 Instead, Paul appealed to Genesis:
For Adam was first formed, then Eve. And Adam was not deceived, but the woman being deceived was in the transgression.
Why don't you want women usurping positions of authority over men, Paul? Because it was God's choosing– Adam was created first and Eve was deceived first. Ever think through exactly what happened at the Fall? Eve was deceived, but Adam partook knowing that it was sin. Adam had heard God say it to him personally.
There's a truth here that Paul is getting at– and it's about what God knows about men and women. God knows our makeup, our weaknesses and vulnerabilities. He knows the stuff we are made of and He knows who to place in the right positions. That being the case, I believe that this is not a cultural command, but a command that's based in how God created us and the way we are supposed to work together. I think that one of the side effects of our culture is to mix up the roles and cloud God's judgment and declare that we have a better way.
There certainly may be women out there that would make better preachers, teachers, etc. than certain men– but that's not the way Paul said it should be in this passage, and that's not the way it should be in our churches.
(Visited 31 times, 1 visits today)