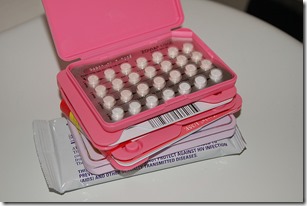 Using the secret sharing app Whisper, women comment about what they think about birth control.  It's an interesting read, sometimes sad, sometimes curious.
Take a look for yourself:  'My boyfriend thinks we're trying for a baby but I still take the pill every morning': Women reveal their birth control confessions on secrets app
I can't decide my reaction.  I feel sorry for some—those that genuinely want to get married or not be single.  I'm always concerned about babies being seen as a burden instead of a glorious new person.  I'm thankful for what birth control can do to help people with medical issues.  I'm saddened for the one that has had what it seems to be lasting side effects they do not want.
Personally, I believe that it's sound science that oral birth control can cause fertilized eggs not to attach to the uterine wall—and for my family that means abortion.  I've also seen the effects that medical birth control can do when someone tries to get pregnant and witnessed that first hand.
It's an interesting topic worth discussing.
---
Image: Not 100% Effective by Nate Grigg
(Visited 24 times, 1 visits today)