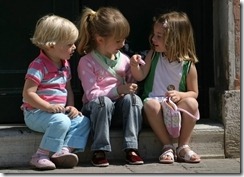 A 6 year old girl wrote a poem, a special tribute to her two grandfathers who served during the Vietnam War which included the line:
"He prayed to God for peace; he prayed to God for strength,"
Another parent got wind of this line, and complained to the school district, and the Principal and Superintendent compelled the girl to take this part out of the poem.
The offended parents didn't want God mentioned anywhere in the program, and of course they claimed establishment clause.  What about free speech?
And you wonder why people home-school.
---
Image from Stock Exchange used under the Standard Restrictions explained at the link.
(Visited 18 times, 1 visits today)