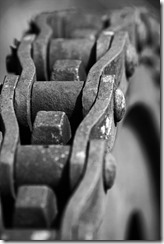 What is old is new again. How about some links to stories I found interesting around the web?
In Easter Aftermath: More Than a One-Time Visit, Jordan Cramer spells out what their church does to make first time visitors feel comfortable and hopefully convert them into long term visitors. What does your church do?
April talks about A Season of Spring Cleaning of not just your house, but also your life. Do you have things that need to go? Why wait any longer!
Ann Althouse quotes a Quora answer stating "Today, I rarely hear teens show any desire to have anything I'd consider a normal adult life."
Modern teens seem to have a whole different perspective on what they want to do with their lives than their parents:
I've overheard my oldest daughter and her friends discuss their post-college plans. They all say they want to get married, for a few years, get divorced, travel the world, be single in their 40s, date both guys and girls, just to try it out, even if they aren't bi, and never, under any circumstances, do they want to have children. Ever. They actually show an open contempt for anything that connotes permanence or settling down.
Is this pervasive or a small sample set?
Check out the series A Father's Responsiblity written in 2006 that talks about a Dad's job in raising his children for Christ.
(Visited 22 times, 1 visits today)