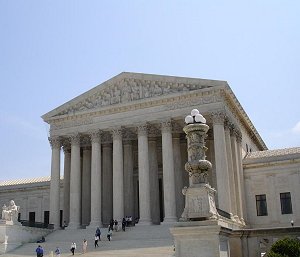 The Supreme Court of the United States cleared the way for a New York grand jury to receive former President Trump's taxes:
The Supreme Court on Monday cleared the way for a New York grand jury to obtain former President Donald Trump's financial records. Over four months after Trump asked them to intervene, the justices turned down a request by the former president to stay a ruling by the U.S. Court of Appeals for the 2nd Circuit that permits Cyrus Vance, the district attorney for Manhattan, to enforce a subpoena to Mazars USA, the president's longtime accountant. Monday's order means that Vance and the grand jury likely will finally acquire eight years of Trump's tax returns and other related records, although grand jury secrecy laws may preclude them from becoming public.

Justices will not block New York grand jury subpoena for Trump's records hat tip Supreme Court Clears Path for New York Grand Jury to Receive President Trump Tax Returns
There has been much fighting over this with it always looking like Trump had something big to hide. Right now, it's more about preventing him from having a possible second term than anything else. What will be interesting to see is if anything comes out of this. They have to have some bombshell, right?
(Visited 1 times, 1 visits today)