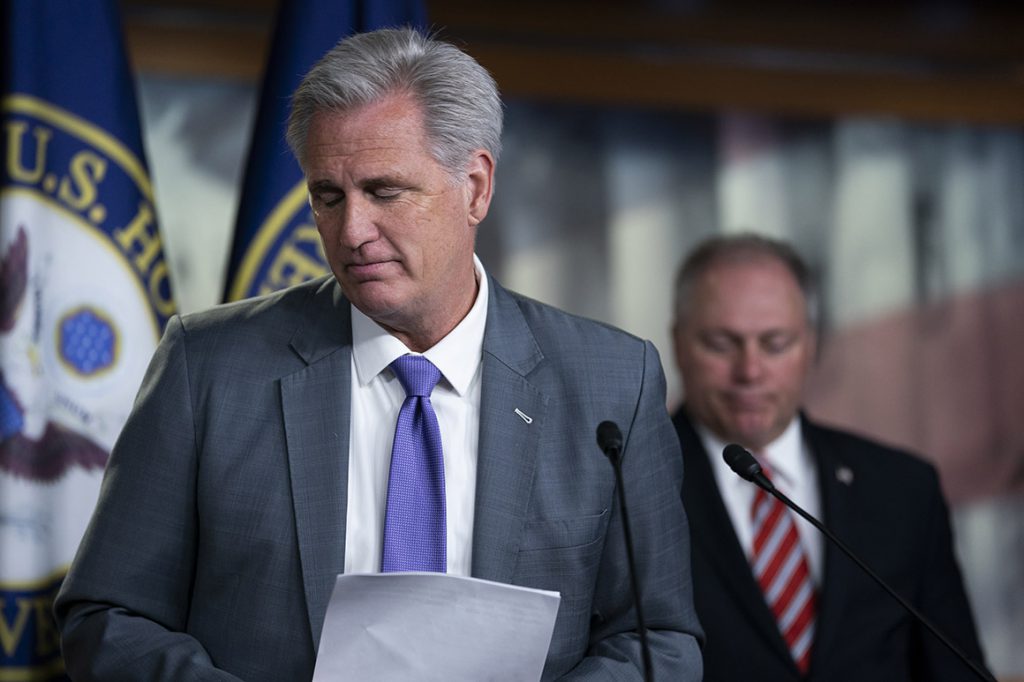 My read of McCarthy's statement on Trump yesterday was that it was pure politics:
Some say the riots were caused by Antifa. There was absolutely no evidence of that. And conservatives should be the first to say so.

The President bears responsibility for Wednesday's attack on Congress by mob rioters. He should have immediately denounced the mob when he saw what was unfolding. These facts require immediate action by President Trump, accept his share of responsibility, quell the brewing unrest and ensure President elect Biden is able to successfully begin his term. The President's immediate action also deserves congressional action, which is why I think a fact finding commission and a censure resolution would be prudent.

House Minority Leader Kevin McCarthy hat tip Ann Althouse
Leader McCarthy was on the record thinking that Impeachment was a bad idea, trying to save Trump the second impeachment on his record by pushing for a censure. More facts are coming out, just see a commenter on Althouse's site:
I'll repeat my comment from the previous post.

Yes, these words should have been said beforehand last week. But the plan to attack the Capitol was already in place. More info coming out. More video/audio. Clearly there were Agent Provocateurs. Clearly there were people who look like Antifa crew, not Maga- and there is a difference- leading the crowds. And apparently they had a plan, and access to the knowledge on where to go and how to coordinate.

Still don't know why there was not a strong law enforcement presence out there. And our incurious press seems to be, well…incurious about it at all. Just…blank stares coming out of the TV. Like freakin stuffed animals. If I knew that there was a great chance for violence, then a LOT of people knew. And it's now known that our FBI knew- why was there nothing set up to prevent any possibility of it? Why no National Guard? No larger Capitol Police presence? No local police presence?

This looks to be too pat. Too arranged. Too organized- from the inside. As the 'fog of war' clears, more will come out. Not that the press will write or talk about it, but the information will continue to come out.

Temujin at 1/14/21, 7:06 AM
Which is how I feel about the whole thing. The first MAGA riot when all others were peaceful? It started while Trump was still speaking and they just let the people walk in? Most of the MAGA people walked around like tourists?
I don't doubt that some MAGA people may have been involved, but this was a gift to the Dems, and hard to believe that they didn't play a part in letting it happen.
(Visited 10 times, 1 visits today)