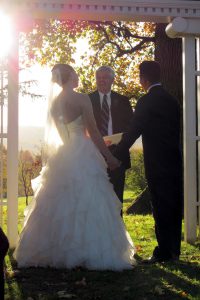 Husbands and wives, when you were dating you wanted to find out everything you could about your significant other. You would give them presents wrapped in their favorite color, jewelry in their favorite color metal, and maybe bring them their favorite treat. There was no bounds, and you prioritized that person over everything—work, school, family (just ask them!).
While Jesus does not want to be your boyfriend or girlfriend, He demands that kind of passion—that He is the center of your life and that you will seek Him and His glory first and foremost. That you will repent of your sin, turn and follow Him wherever that leads.
May I encourage you—spend time in God's Word, and as you do, look at it like that love that you had (and hopefully still have!) for your spouse. Look for ways that you can please Him, and don't let the culture, what others may think, etc. get between you and giving praise and glory to your Savior.
Don't get trapped in the lies of the world, that this is the best that it's been. This world is not our home, and the best is yet to come.
(Visited 18 times, 1 visits today)