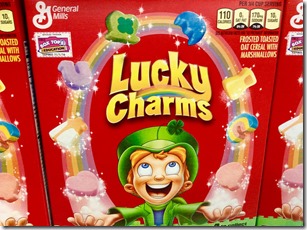 I'm guessing that the advertising where they say that the thing is only made with ingredients you know is making an impact.
The company said Monday that Trix and Reese's Puffs will be among the first cereals to undergo the changes. The company is the first major cereal company to replace those artificial ingredients with fruits, vegetables and spices.
Be interesting to taste the difference.  I wonder if people will start to stockpile the current versions for taste tests or to sell on ebay when the new stuff goes live.
I bet the older stuff will have a longer shelf life!
---
Image: Lucky Charms Kids Cereal by Mike Mozart
(Visited 21 times, 1 visits today)