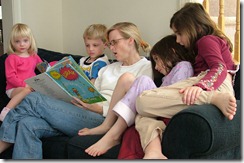 The amount of entertainment options today abound, and if your children are anything like mine they want to be constantly entertained.  They may have a cabinet full of books and board games and legos, but they want screen time, to be outside, or whatever they believe will entertain them now.
One father went to extremes when he thought his kids were overstimulated:
"He then gave them a 'toy' he'd seen kids play with in Africa — a plastic milk jug with a rock inside. Still worried about overstimulation, he gave away all their books but two."

From "Cucumbers: The New Birthday Cake?" [hat tip: "A neighborhood father tossed out all of his kids' toys after reading that American kids were 'overstimulated.'" – Ann Althouse]
I don't believe it matters whether you have few toys or many, whether you are with or without screens– this issue is a matter of the heart and training.  The lazy and unmotivated will be such with or without devices.  Said differently, devices may entice you to waste time, but those that wish to use their time will refrain.
So, I can see the value in both having the conversation with your kids (and young adults, and adults) on how to spend one's time wisely, and maybe an intervention is needed if it is obsessive to show just what is important.  It reminds me of the challenge my wife and I did a while back to turn off the screens.  Maybe it's time to try that experiment again.
(Visited 18 times, 1 visits today)