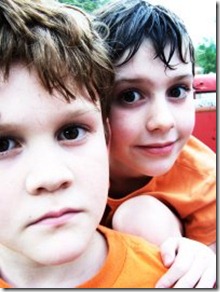 It was summer camp.  I was a junior counselor, my father the senior counselor.  Here was the first time that I saw the battle of the sexes in full force and boys and girls sat at separate tables and each looked at the other like they were aliens.
It's not like society doesn't create this problem.  Boys and Girls, Men and Women are different.  Whereas they live together at home, when they are in school or summer camp they are separated into different sleeping areas, different gym classes, different facilities.  While in a home they may be forced to work together with some knowledge of their difference, all of these external places bring the differences to light.
And no one disagrees!
However, what I noticed that day in the dining room at summer camp was that I wanted to believe that the boys were better—being a boy myself—and thought that the adults trying to convince us of equality were misguided.
We Are Not Equal, And We Never Have Been And Never Will Be
The culture's desire is basically to create one sex.  This one type of person, despite their physical apparatus, would have the entire world open to them.  They would be able to have any job, have any responsibility, marry whomever they will, and then they would be happy.  This elusive happiness drives people to do many things in its pursuit, but ultimately happiness does not come from the outside, but the inside.
Men and women were never equal.  When they were created, they were given different roles to fill and different abilities to carry out these tasks.1  Even the Evolutionist will agree that women and men have different "cocktails" of hormones going through their bodies.  In fact, there are whole blogs dedicated to help men understand and manipulate the emotions and attraction of females based solely on their understanding of Evolution. 2
Yet, liberalism and modern society continues to believe that if they just pushed more legislation, if they just did more indoctrination, they could rid the world of these differences.
We See This Everywhere
This concept of equality is everywhere, from the claim that women do not receive equal pay for equal work (a fallacy) to homosexual marriage.  Yes, that's right, we can trace feminism as influential in the process of guaranteeing same sex marriage because the underlying argument of same sex marriage is that any one person should be able to marry any one other person—to eventually be expanded to polygamy.
In erasing the differences instead of celebrating them, we have created a situation where people are not viewed as different, but where every person is considered the same as another.  One only has to look at the business world to see how this works out.
In many different industries, management has attempted to make all employees equal, but none is this more real (to me anyway) than the software developer realm.  Between the tools that are created for us and the way that we are able to create something for people that thousands of miles away, management has sought to be able to think of all developers the same, and to commoditize us.  They can attempt to equate a developer of one country with a developer of another company, and they attempt to use job titles to [butts]. skill.  Only what they've found is that not all developers are created equal, and (like any other profession I'm sure) passion and personal style tend to differ.
When these differences are harnessed, like at the beginning of every project where everyone is pretty much left to innovate, what comes out can be amazing.  However, after a while, when people no longer are engaged, and they become interchangeable, what you find is that a project can stagnate.  Quality goes down because of the value that you place on those people as individuals.
The same is true with the sexes.  If you look at the rate of progress and what the parents of the 20s-50s faced and beat, you see something that we'll never achieve in the 2000s the way that we are headed.  We may no longer be living off of their prosperity, but we continue to attempt to, by going into debt over our eyeballs.  We compete with our parents in giving gifts, and with the Jones' in what technology we should have in our house.
Basically, we've replaced a functioning society with the complementary pieces working together in their roles for a drone society, where women are told to be happy being "man-light" and men are told to consider these new "men" to be the same as them.  Only all men know that they are not, and they either take advantage of these new "men" or desperately seek for true women.
Conclusion
The adult counselors were right, in the fact that before God and as people we are equal.  We shouldn't be picking on one another, proclaiming that one sex is better than one another, and seeking to best one another.  What we should be doing is encouraging one another in our differences, and seeing them as a strength.
We need men to be men and women to be women if we want to see a healthy society.  Unfortunately, we may be too far gone.
---
Image from Stock Exchange used under the Standard Restrictions explained at the link.
(Visited 20 times, 1 visits today)
I generalize throughout this post, and realize there are outliers.  Please understand that it would be annoying to constantly have to point this out throughout. [↩]
I don't agree with their foundational statements about evolutionary psychology, and can totally attribute their empirical findings with a Creation/Fall scenario—that's not the point, however. [↩]