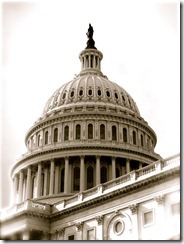 Rand Paul is in the news, with many others, that think that the GOP should just give the Democrats whatever they want, so they can own it:
I have yet another thought on how we can fix this. Why don't we let the Democrats pass whatever they want? If they are the party of higher taxes, all the Republicans vote present and let the Democrats raise taxes as high as they want to raise them, let Democrats in the Senate raise taxes, let the president sign it and then make them own the tax increase. And when the economy stalls, when the economy sputters, when people lose their jobs, they know which party to blame, the party of high taxes. Let's don't be the party of just almost as high taxes.

[Real Clear Politics: Rand Paul: We Should Let Dems Raise Taxes and then Let Them Own It]
Seems stupid to me.  You were elected to do what was best for the country, and if you believe the Democrats plan is not good for the country, shouldn't you go down fighting?
---
Image from Stock Exchange used under the Standard Restrictions explained at the link.
(Visited 18 times, 1 visits today)