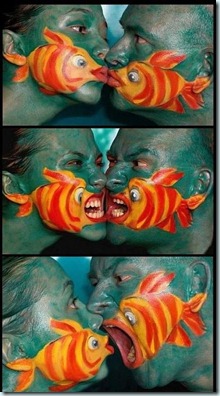 Here's a cute one—I'd do it, but I don't think I could pull it off!
It looks like the couple painted their face and hair line, even their neck!, for this.  What makes it work is the fact that the fish are so vivid—it almost takes a minute to figure out what's going on.
Which of these is your favorite?  The first one where they are kissing, the second where they're ready to eat, or the third when the fish is about to eat the other.
I think mine is the last one.
I think that one of the neatest features of these images is the fact that they are looking into each other's eyes while making the faces.
What do you think?
---
Image found at ModDb – Weird.
(Visited 23 times, 1 visits today)