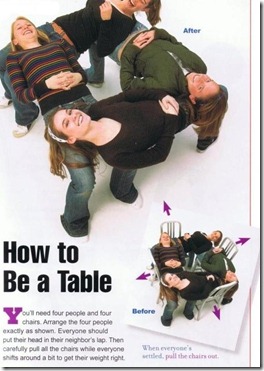 This week is my church's Vacation Bible School week—and we're most of the way through it.  We're doing the Answers In Genesis Gold Rush VBS and I've liked how the material has been presented.  Tonight's the Gospel message.
In any case, I came upon this image recently, and it reminded me of some of the games that I've seen this week.
Have you ever tried to be a table—you and four of your friends?
Is it as easy as these images?  I'll have to give it a try.
Just use the four chairs to start out, and then pull them out afterward.  It should work, right?
Let me know if you try it!
(Visited 19 times, 1 visits today)