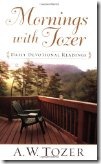 One of my all time favorite authors is A.W. Tozer.  I was first introduced to him in college when I was given the assignment to read different entries in the Best of Tozer compilation works.  From there, I added him to my daily devotions, and it's true what they say, he really does make you want to read your Bible more.
Mornings with Tozer is a devotional with excerpts from different writings and sermons from Tozer on a given topic formatted to be read each day of the year.  That means there's 366 entries, just in case it's a leap year.
Each day has a scripture passage, a comment and a short prayer at the end.
Tozer will challenge your beliefs.  He will cut to the heart of the issue like few I know can, and he will leave you wanting, yearning to know God better.
(Visited 15 times, 1 visits today)