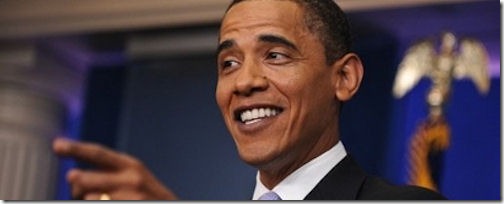 I mean, how else can you explain the fact that until this moment President Obama (and formerly Senator Obama) stated that the only way that a Health Care Reform plan should be done is through a wide, bipartisan margin?
Ann Althouse chronicles Obama's many statements to this effect:
[Health care reform] is an area where we're going to have to have a 60% majority in the Senate and the House in order to actually get a bill to my desk. We're going to have to have a majority to get a bill to my desk that is not just a 50-plus-one majority….

You gotta break out of what I call the sort of 50-plus-one pattern of presidential politics. Maybe you eke out a victory with 50-plus-one but you can't govern. You know, you get Air Force One and a lot of nice perks as president but you can't — you can't deliver on health — we're not going to pass universal health care with a — with a 50-plus-one strategy.
That's just one of them and that was in 2007, and what I think it one of the more damaging quotes.
Obviously, it's different when you're President and you're at risk of seeing your whole plan go up in flames—you want to win no matter the cost—but if you expected a principled politician I believe you're seeing that it's harder to find such an animal than to just believe what they say in a campaign.
(Visited 20 times, 1 visits today)