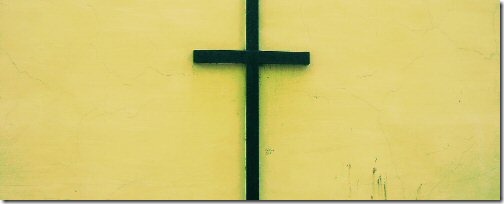 Shane Claiborne has a message for all nonbelievers—Christians are the biggest bunch of hypocrites, and I'm not like them.
To all my nonbelieving, sort-of-believing, and used-to-be-believing friends: I feel like I should begin with a confession. I am sorry that so often the biggest obstacle to God has been Christians. Christians who have had so much to say with our mouths and so little to show with our lives. I am sorry that so often we have forgotten the Christ of our Christianity.

Forgive us. Forgive us for the embarrassing things we have done in the name of God.  [What if Jesus Meant All That Stuff? – Esquire]
Every time that I have heard of a televangelist or a person in authority make a slip up, I'm sad for the cause of Christ.  But that's never caused me to spend an entire article to an audience that is already against God disparaging the people of God.
Are some of his criticisms warranted?  I'm sure that the stereotypical Christian to many non-believers is something like what Mr. Claiborne says that he's ashamed of, but I would venture a guess that this is because they rarely know one personally.
Statistics show that Christians give more to charity, are those that pray more for others, and that are actually concerned about others.  They get involved when others do not.
What is the hardest attack he makes is when he positions himself as the only true follower of Christ while other Christians are not, and then draws the picture of Jesus lecturing the religious leaders.  It's true, Jesus did that to a group of people that were preaching a false religion that were leading people to believe that if they just did their sacrifices and observed the law they would get to Heaven.
Does he really want to liken all of Christianity to the Pharisees?
What Mr. Claiborne does, instead of holding a high standard and causing Christ to become attractive, is to paint all of His followers exactly like the non-believers do—agreeing with them—and calling himself more reasonable.
And that's supposed to win people over?
(Visited 23 times, 1 visits today)