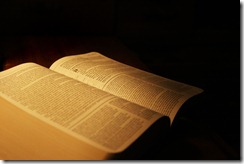 If you were to pick the hardest Bible passages, what would you pick?
A recent post by Ann Althouse suggested her Top 10 Worst Bible Passages.  A lot of the problems that people have with these passages has to do with context and an understanding of the times.
For example:
2. "Go, now, attack Amalek, and deal with him and all that he has under the ban. Do not spare him, but kill men and women, children and infants, oxen and sheep, camels and asses." (1 Samuel 15:3)
This seems harsh, except it is in God's hand when any should die, and they had been warned and God had shown mercy.  It was many generations after they had been told to change that they were judged.  I can see why we believe that killing everything is harsh, but it was a whole lot more efficient than the tactics we have today.  Just saying.
To me, the hardest things to reconcile are things like Romans 9—why did God love Jacob?  Why did He hate Esau?  That kind of stuff blows my mind.
What do you find difficult?
(Visited 11 times, 1 visits today)