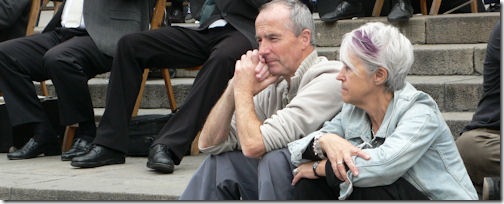 The danger of writing a post talking about how wives should be intimately available to their husbands is two fold:
Men automatically think that this is a one way thing– their wives should be more intimate.
Men somehow think it justifies those times where it's difficult to control where their mind goes.
You see, we live in a society and culture today that is bombarding us with sexual images. Part of the admonition to the wives as far as intimacy is to know the reality of the way that men are wired and to help keep us from temptation. But this is not solely the wife's job.
Men, it is important for us– yea, imperative– that we work hard at avoiding things that could even be near the line of those things that are unacceptable for us to be allowing into our mind. The mixture of our chemistry and our mind can mean that we store and replay things that we shouldn't– and that our wives would have no problem forgetting.
This means that we have to make a conscious effort to guard our minds and our eyes. There are two methods to doing this:
Prayer and thinking about what you are doing before doing it. If you're in prayer, you're less likely to go somewhere even questionable. If you're thinking about what you are doing rather than responding to impulses or desires, you'll stop before going to that place, clicking that link or watching that video.
Consistently practice making your wife the center of your life. Remember how there were no other women for you while you were dating? You wouldn't even dream of looking at another? Why was that? It was because you were putting all your energy into winning the one woman that you love. Keep doing that.
You see, if you're in prayer and your focused on what would please your Lord and your wife you will find that the desire to see how close you can get to the line will be less, because you have correctly focused your desire.
This doesn't let either party off the hook as far as maintaining a correct physical relationship, but it does not say that it's all the wife's fault if you're falling into temptation.
(Visited 23 times, 1 visits today)