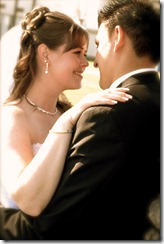 In what seems like something out of the midevil time period or earlier, a Colorado court has ruled that girls can marry at 15, provided that they go through a common law marriage. The ruling is based on the fact that Colorado acknowledges common law marriages, and the statute specifying ages references traditional ceremonial marriages. In fact,
[T]he three-judge panel stopped short of setting a specific minimum age for such marriages, it said they could be legal for girls at 12 and boys at 14.
In one way, this is incredibly amazing. In years past, it was acceptable for 14 year old guys to marry 12 year old girls. My has society changed! Taking a brief look at the history of marriage, perhaps we can explain why.
Originally, God created the first mate– a perfect match. He created Eve out of the dust of the ground as Adam's perfect helpmeet. I could only imagine that it must have been this that encouraged the families to help plan the marriages of their children. The next time you get a glimpse of the selection process is with Isaac and Rebekah. In this case, Abraham actually sent out a servant to go find God's choice. Isaac and Rebekah never met before they were brought together for marriage.
Down through the records, marriages were arranged, purchased, bethrothed, used to bind countries, peoples, etc. If you look at the time of Christ, they were still doing arranged marriages with brides and grooms peparing themselves for their coming wedding– keeping themselves pure, working toward the time that they would dependant on each other.
Young boys were considered men at 12 according to Jewish custom, so it's no stretch of the imagination that they would have also have been considered responsible to marry. My, how far we have come!
We now have a culture that expects children to be able to do less and less. Our collective desire to have our young years full of play and our adversion to having our children working in mines has made it so that we really don't grow responsible children as much as we do kids that shun responsibility. Then we wonder why, when we ask them to do something, they rebel– but I digress.
I'm sure that arranged marriages and housing with parents also had a lot to do with the ages that children married. If you knew that you had a stable surrounding, who the boy/girl was that you were going to marry, and when you would not have the situations that we are having today.
In fact, if a boy married at 14 when he was just hitting puberty and starting to develop longings– he would have had an outlet. Unwed pregancy rates would go down. There sounds like there are good reasons for the way they did things– why aren't we still doing things this way?!
(Visited 19 times, 1 visits today)