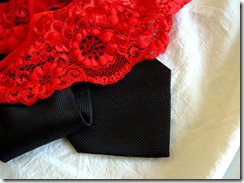 Yesterday we discussed the responsibility of the person raped in the situation in which she finds herself. We talked about how it is up to the woman to realize where she will be, the dangers involved and what kind of attention she attracts.
This time I'd like to switch gears and focus on the attacker– what are some things that cause a man to rape and murder a woman, and how does a person get there? Certainly rape was around long before porn. A Biblical example is as easy to find as the time when one of David's sons forced himself on one of David's daughters which was what caused part of Absolom's rage against the brother and eventually David himself.
But what gets a man– and men are supposed to be trained to treat women as the fairer sex regardless of what the feminists claim– to go from passive to aggressive? The only logical progression I can see is one of which emotion, loss of inhibition and objectification dominate the male's mind.
I don't have statistics, but I'm sure that a majority of rapists do not know their target. I'm sure that the rapist we mentioned yesterday did not– it was opportunity. That being said, this man had a prostitute with him. He had already objectified women to the point that they were something to buy a service from and then be done with. In this case, he had to kill her.
Emotion certainly must play a part. A man has to get to the point where he acts out irrationally without thinking something through. Whether guided by his lust, anger, or whatever, a man has to get emotionally going to make a decision to go after and violate another human being.
But the last one is probably the most disconcerting– the wearing down of inhibitions. America has allowed porn and obscenity to become a big money maker under the guise of free speech. They have permitted that which was private to dominate daily life. They have perverted the beautiful act of marriage, and have trumpted the "virtues" of watching sex acts take place on whatever medium you can find.
This glorification and absorption in looking at people's bodies allows for mental images and inhibitions to lower, causing men to fall more and more into objectification. As all sin, the more you see the more you need to fill the craving– for sin leaves a hole. Pretty soon it's not enough to see the pictures or watch the video– you have to have it real life. Because sin is a progression, it's easy to see where porn can make you think less of your spouse and how they are sexually and then focus on others. Then, depending on which way you turn, you're doing things more and more risky until you need the rush that raping someone might bring you.
(Visited 31 times, 1 visits today)